American Cockroaches
Periplaneta americana (L.)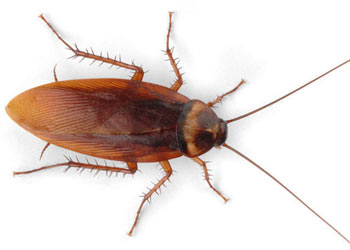 | | |
| --- | --- |
| Color | Reddish brown, with a yellowish patch of color along the back of the head |
| Legs | Six |
| Shape | Oval, Flat Body |
| Size | 1.5" (4cm) |
| Antennae | Yes |
| Flight | Yes; Fully Developed Wings |
Habits
While the American Cockroach prefers plant materials to eat, it is omnivorous and will also feed on dead animals, animal droppings, household foods, and even wallpaper. These are nocturnal creatures, and spend their nights searching for food.
Habitat
This cockroach species is commonly seen in homes, and can often be found in crawl spaces, basements, damp utility closets, and other areas with high moisture levels. This species is found in all 50 states, and is particularly common around seaport towns and on ships.
Threats
Cockroaches are known to be carriers and vectors for at least 33 kinds of bacteria, six kinds of parasitic worms, and at least seven other human pathogens. Germs and viruses are carried on the spines of their legs and bodies as they move about the home, and then deposited on countertops, food, and other surfaces throughout the home.
The bodies of cockroaches contain powerful allergens -- including their saliva, feces, moltings, dead bodies, and egg cases. These allergens are known to be stronger than the ones carried by pets or dust mites; The Allergy And Asthma Foundation Of America reports that 23-60% of urban residents are sensitive to these allergens.
Cockroach allergy symptoms are as mild as itchy skin or a scratchy throat, and can be as severe as skin rashes or an acute asthma attack.
Prevention
Because of their cautious nature, cockroaches can live unnoticed in a seemly clean house for years before being discovered. However, infestations can be controlled by thoroughly cleaning floors, doing all dishes right away, and storing food in sealed, cockroach-proof containers. Replace trash bags often, and avoid leaving pet food out when not being consumed.
An professional will use a elimination strategy that uses non-repellent dusts and insecticides, bait stations, sticky monitors, and products to fill cracks and gaps where cockroaches may be entering the home.
Looking for a price? Get a no cost, no obligation free estimate.